Library Services
Explore our many services provided to Chanute Public Library patrons.
Library Cards
Getting a Library Card
Getting a library card is free for any resident of Kansas.
For patrons over 18, one form of photo ID with current information showing name and address or photo ID with other acceptable proof of residence is required at time of filling out a library card application.
Children under the age of 18 must have cards co-signed by parent or legal guardian. This form authorizes or denies minors access to public internet computers.
For your protection, the patron card with name and registration number should be presented each time materials are checked out.
Loss of a card must be reported immediately or the patron will be responsible for materials checked out on it. Replacement cards cost $1.
Borrowing Materials
There is no limit on the number of items checked out by an individual except on DVDs. Patrons are limited to 5 DVDs, VHS tapes, or Blu-Ray movies and are checked out for 1 week.
Regular adult and children's books and audiobooks are checked out for 3 weeks. New adult fiction and designated adult nonfiction books are checked out for 1 week, except for those which are borrows from another library and those with reserve lists.
Renewals may be made in person, by phone, email, social media messaging apps, or on our online catalog. All materials may be renewed 1 time after the initial checkout. Most items have a 1- week grace period after the due date.
Materials may be reserved online or asking a staff member for assistance. You will be notified when the materials become available. Materials must be picked up within 3 days of notification.
Returning Materials
The patron has the responsibility to return materials on or before the due date. If the items are overdue, the patron may be refused the right to check out additional materials until the missing items are returned or replacement costs are made. All items checked out on that patron's card are that patron's responsibility.
Fines are $0.50 per day per item for all items with a maximum of $5.00 for each item.
An accumulated fine of more than $10 will suspend borrowing privileges.
Patrons will be notified by text, email or at the address given on their library card about overdue materials.
Damage beyond reasonable wear or lose of items will be charged to the patron.
Collections & Lending Policies
The library annually circulates over 130,000 items, including books for all ages, magazines, music recordings, audiobooks, videos and DVDs. Special collections include large-print books and educational toys. Reference books and rare or historically valuable books do not circulate.
Patron Behavior Policy
Privileges will be limited for the following reasons:
Damage to Library property.
Stealing Library materials.
Physically or verbally abusing staff or another patron.
Activities not allowed in the Library include:
Playing audio equipment so that others may hear it.
Smoking
Carrying a weapon into the Library unless authorized by the law. Any person authorized to carry a weapon must notify Library staff.
Bringing animals into the library except those needed to assist a patron with a disability or for use in a Library sponsored program.
Misusing or defacing the restrooms.
Leaving a child under the age of 8 unattended in the Library.
Other
Children who are left unattended by their parents are not the responsibility of the Library or of the Library staff.
Library phones are not for public use.
Anyone abusing the rules and regulations of the Library will have their patron card canceled.
Interlibrary Loan
Through our partnership with the Southeast Kansas Library System and the ShareIt Interlibrary Loan system, we can request items from SEKLS member libraries and libraries all around Kansas. When making an interlibrary loan request, please be specific as possible (author, title, publication date, etc.). Interlibrary loan requests may take longer depending on scarcity of items or may be cancelled due to unfulfilled requests. Contact David Shaw for interlibrary loan requests at 620-431-3820.
Computers and Internet
The Library provides 10 public-access computers which provide access to the Internet as well as Word, Excel, and Powerpoint. Users are allowed 1 hour per day. Library cards are required for access and can only be used by the library card holder, but adults can be logged on with "visitor" status.
We do have a copy/printer available for patron use. The cost is .10 per side for black-and-white and .75 for color.
History Room
Our history room is located in the upstairs children's department and open during regular business hours.
Room includes the following research items:
Chanute Newspaper on microfilm beginning in 1871
Index to Obituaries
School District Yearbooks
Directory of Neosho County Cemeteries
Civil War Information
Marriages 1864-1948
Probate Records
Variety of photos relevant to the region
Vertical File of general information on the area
Statewide contact information for various documentation
Printing from the microfilm machines is available and cost $0.25 after the first three copies. For specific History Room questions or research inquiries, fill out our form here. Please be specific as possible, including name(s) and specific dates (or using month and year if exact date is unknown).
Meeting Rooms
The library does not have a public meeting room. The Leighty Conference room is shared with the Safari Museum and available for Library or Museum sponsored events. For more information contact us at 620-431-3820.
Electronic Resources
Explore our many electronic resources provided to Chanute Public Library patrons.
Kansas State Library Resources
Explore our many resources provided to Chanute Public Library patrons through partnerships with the Kansas State Library.
Kansas State Library eBooks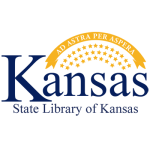 Through a partnership with the Kansas State Library, downloadable eBooks that you can put on your portable device and enjoy anywhere.Once a book is due, it simply disappears from your device. However, just like a physical book we only have a certain number of copies of most digital titles. If a book is currently checked out, you may place a hold on the item.
You don't need to have a portable e-reader to take advantage of the service. In fact, some portable devices require that you first download a title to a computer and then transfer it to the device.
To access the Kansas eBooks you will need:
A valid state library card. This is different than your Chanute Public Library card, but you will need to come into the building to obtain one.
Access to the Internet.
The free software for the device or computer on which you wish to use your EZ Library items.
A valid email address so you can be notified when your titles are available for download.
For help and to start browsing the selection of titles, go to the Kansas 3M website:
Visit
Talking Books
Kansas Talking Books provides personalized library support and materials in a specialized format to eligible Kansas residents to ensure that all may read. This no-cost library service features:
Audio books, audio magazines, braille books, and braille magazines mailed directly to your house and returned postage free. 
Special equipment lent to you at no charge.
A collection that includes romance, mysteries, bestsellers, science fiction, westerns, biographies, fiction, children's books, young adult books and more.
Find your next good read and get library help by calling 800-362-0699, Monday through Friday, 8 a.m. to 5 p.m.
Download books and magazines from the Braille and Audio Reading Download (BARD) website or by using the BARD Mobile app.
To find out more information, visit the Kansas Talking Books website. 
Visit
Online Databases
Expand your learning and career options by exploring online databases provided by the Kansas State Library. Users may need to get a Kansas State Library eCard first before accessing databases. Ask your local librarian how to apply for an eCard.
Visit
Chanute Public Library
111 N. Lincoln Ave
Chanute, Kansas 66720
► Library Hours
Winter Hours
(Labor Day - Memorial Day)
Mon - Thu: 9:00a - 7:00p
Fri & Sat: 9:00a - 5:00p
Summer Hours
(Memorial Day - Labor Day)
Mon - Thu: 9:00a - 6:00p
Fri & Sat: 9:00a - 5:00p
► Phone